August is the perfect month to focus on sandwiches, especially with school starting up again in September. Lunches are the perfect meal for sandwiches!

Upscale your grilled cheese with this recipe from BBC Good Food:

Green Chilli & Mango Toastie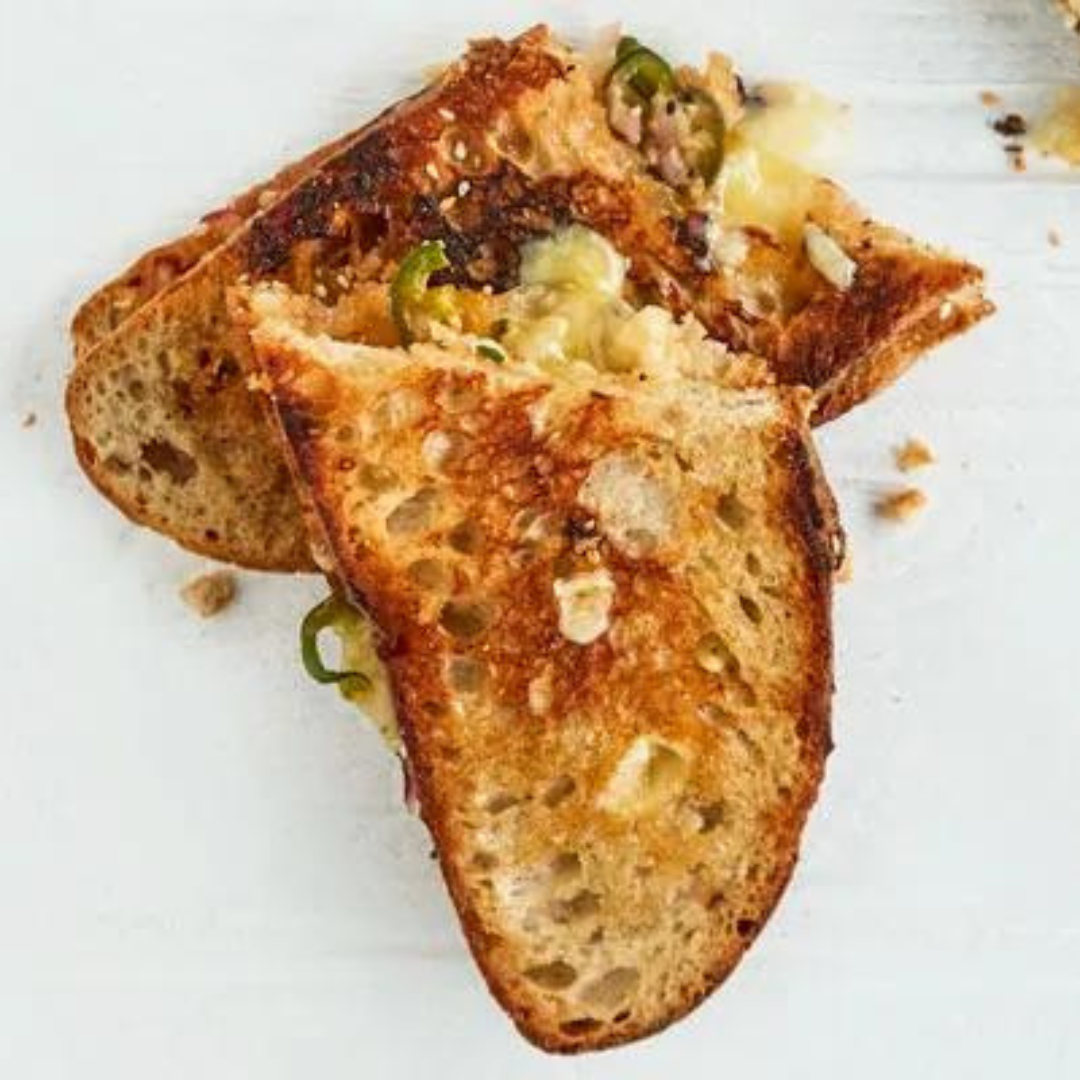 Ingredients:
2 slices of bread
1 tbsp mango chutney
½ sliced green jalapeño chilli
a few coriander leaves
1 tbsp finely chopped red onion
50g grated cheddar
butter
Directions:

Spread one slice of bread with the mango chutney. Top with the sliced chilli, a few coriander leaves and red onion. Scatter over the cheddar and top with the other slice of bread, then butter the outsides of the sandwich. Cook in a hot pan, weighed down by another heavy pan, for 2-3 mins on each side until the outside is crisp and the cheese has melted. Alternatively, cook in a sandwich toaster.


Reuben Sandwich (from allrecipes)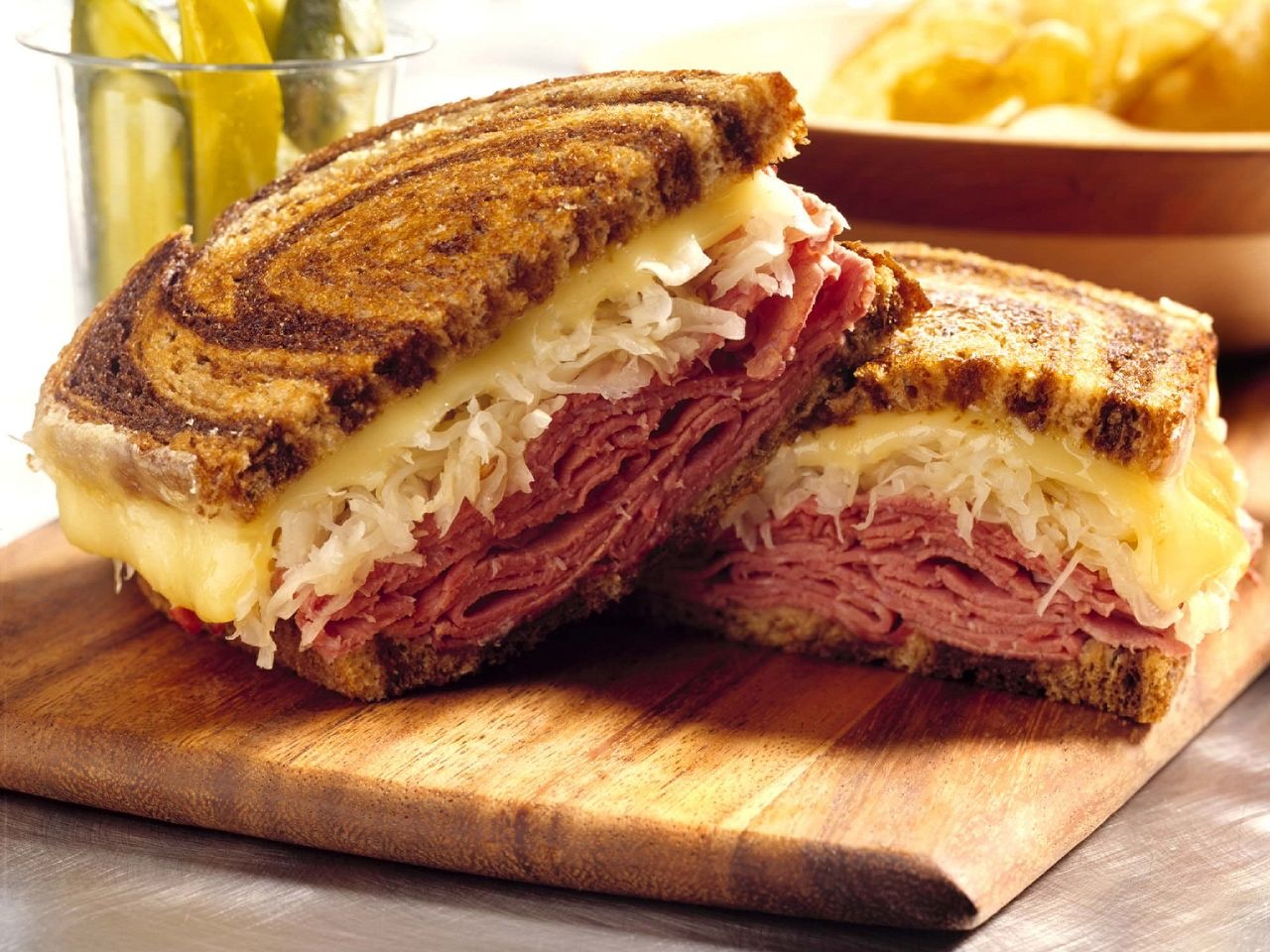 Ingredients:



Directions:


Preheat a large skillet or griddle on medium heat.

Lightly butter one side of bread slices. Spread non-buttered sides with Thousand Island dressing. On 4 bread slices, layer 1 slice Swiss cheese, 2 slices corned beef, 1/4 cup sauerkraut and second slice of Swiss cheese. Top with remaining bread slices, buttered sides out.

Grill sandwiches until both sides are golden brown, about 5 minutes per side. Serve hot.
Ultimate Vegetarian Sandwich (from Delish)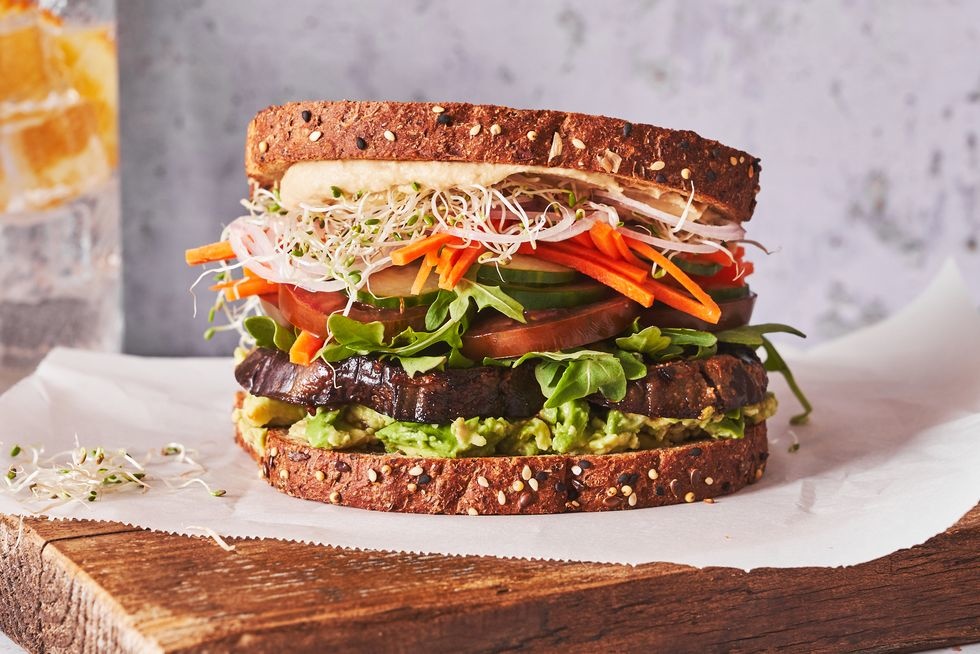 Ingredients:
FOR THE QUICK PICKLES
1
medium carrot, julienned
FOR THE MISO EGGPLANT
1
medium eggplant, sliced into ½ inch slices
FOR THE SANDWICHES
1/2
lime juice
Kosher Salt
Freshly ground black pepper
2
heirloom tomatoes, sliced thick
2
small shallots, thinly sliced
8
slices whole wheat bread, toasted
FOR THE QUICK PICKLES
In a medium bowl combine cucumber and carrots. Cover with rice vinegar, water and salt. Stir until salt is fully dissolved. Cover with plastic wrap and let marinate in the fridge for at least 20 minutes and up to 48 hours.
FOR THE MISO EGGPLANT
Preheat oven to 425º F.Lay eggplant slices out on a cutting board and sprinkle all sides with kosher salt. Let sit for 10 minutes. Meanwhile in a small bowl whisk miso, soy sauce, rice vinegar, sesame oil and honey.
Line a sheet tray with parchment paper. Dip each slice of eggplant, both sides, in the miso glaze and arrange them on the sheet tray so there is no overlap. Roast for 30 minutes, flipping halfway through until browned and tender
FOR THE SANDWICHES
In a small bowl scoop out the flesh of the avocados and add lime juice. Mash into a spread, seasoning with salt and pepper to taste. Sprinkle the tomato slices with a sprinkle of salt.
Start building the sandwich by spreading ¼ of the avocado on one slice of bread and 2 tbsp of hummus on the other. Begin with the avocado slice then stack the veg in the following order: a few slices of miso eggplant, handful of arugula, 2 slices heirloom tomato, pickled cucumbers, pickled carrots, shallots then sprouts. Top with the other piece of bread, slice in half and serve.