At Heart of the Home, we understand the importance of supporting local businesses and artisans. So we have decided to open our doors to all local makers, and across Canada. We are wanting to give you a space to share and sell your products without having the overhead costs of a brick and mortar store.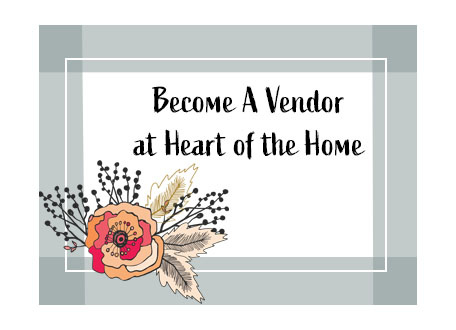 We want to help folks get their quality, handmade goods into the hands of more people who appreciate the craftsmanship and passion put into locally made products. Having your items in our store helps take the stress off you to sell your product, and instead gives you more time to create.

Heart of the Home is open 7 days a week with expert staff who offer our customers a one-of-a-kind shopping experience customized to their needs.
"Several studies have shown that when you buy from an independent, locally owned business, rather than a nationally owned business, significantly more of your money is used to make purchases from other local businesses, service providers, and farms — further strengthening the economic base of the whole community." - sustainableconnections.org/why-buy-local/

We are currently looking for local products that fall into the following categories:

Pottery, Honey, Cleaning Products & Tea Towels/Tea Cozies



Other items that we are currently carrying and/or may consider for future placement.
Canning, Honey & Preserves (Food Products)
Kitchen Accessories (Mugs, Tote/Market Bags, Dishtowels, Aprons, Trivets, Cutting/serving boards, Bees Wrap)
80% Handmade 
20% Resale 
Clothing & Accessories
Bath & Beauty
Candle & Fragrance Products
Home Decor & Furniture
Jewelry
Woodworking
Photography, Art Prints, Paper Goods
Pottery or Glass
Reclaimed, Upcycled, or Antiques
Sewing or Weaving
Crochet or Knitting
Other (please specify)

We carry a variety of unique locally crafted/made/designed products. We do not want to overlap product lines during each selected term. 
All vendors selling consumable products must attach a valid copy of AHS Food Sanitation & Hygiene Certificate or Home Study Course Certificate. If Organic a copy of your "Certified Organic" Certificate.
Why Heart of the Home?
We offer a competitive commission rate. (40% Commission Rate - 60% going to you)
Choose a Short term contract and/or long term contract. Our vendor terms are Spring (March to May), Summer (June-August), Fall (September & October) and Winter/Christmas (November & December)
Shop local sections at front of the store including a monthly rotating feature table as well as integrated displays and storytelling. We ensure there is a continuous rotation of displays so that the store stays fresh and your products are shown in their best light. 
Located in the prestigious neighbourhood of Glenora, in the shopping complex called "The High Street." This small strip mall is home to locally owned boutique shops and cafes. 
Have the chance to host in-store information sessions and product demonstrations.
If you are interested in becoming a vendor, or know someone who you think would be a good fit, please see the application below:
The Application Form will be available all year around. All vendors who have been selected will be notified by email and will be sent a term contract. We will notify you of product drop-off dates, restocking expectations and any additional requirements throughout your term. 
While we do consider all applications, not all applicants will be accepted due to space and or overlap of products with other vendors. If you do not get accepted this time around, we will keep your information on file and contact you when we feel you may be a better fit or to fill a gap in our product lineup.​​​​​​​​