We do love a good tea party, and cannot resist the charm of setting our table with Royal Worcester's Wrendale Designs by Hannah Dale. With visions of white chocolate scones, or orange & cranberry scones if you prefer - or both! - plus pumpkin cupcakes with chai tea frosting, hot apple cider, apple slices with caramel dip, and bowls of nuts.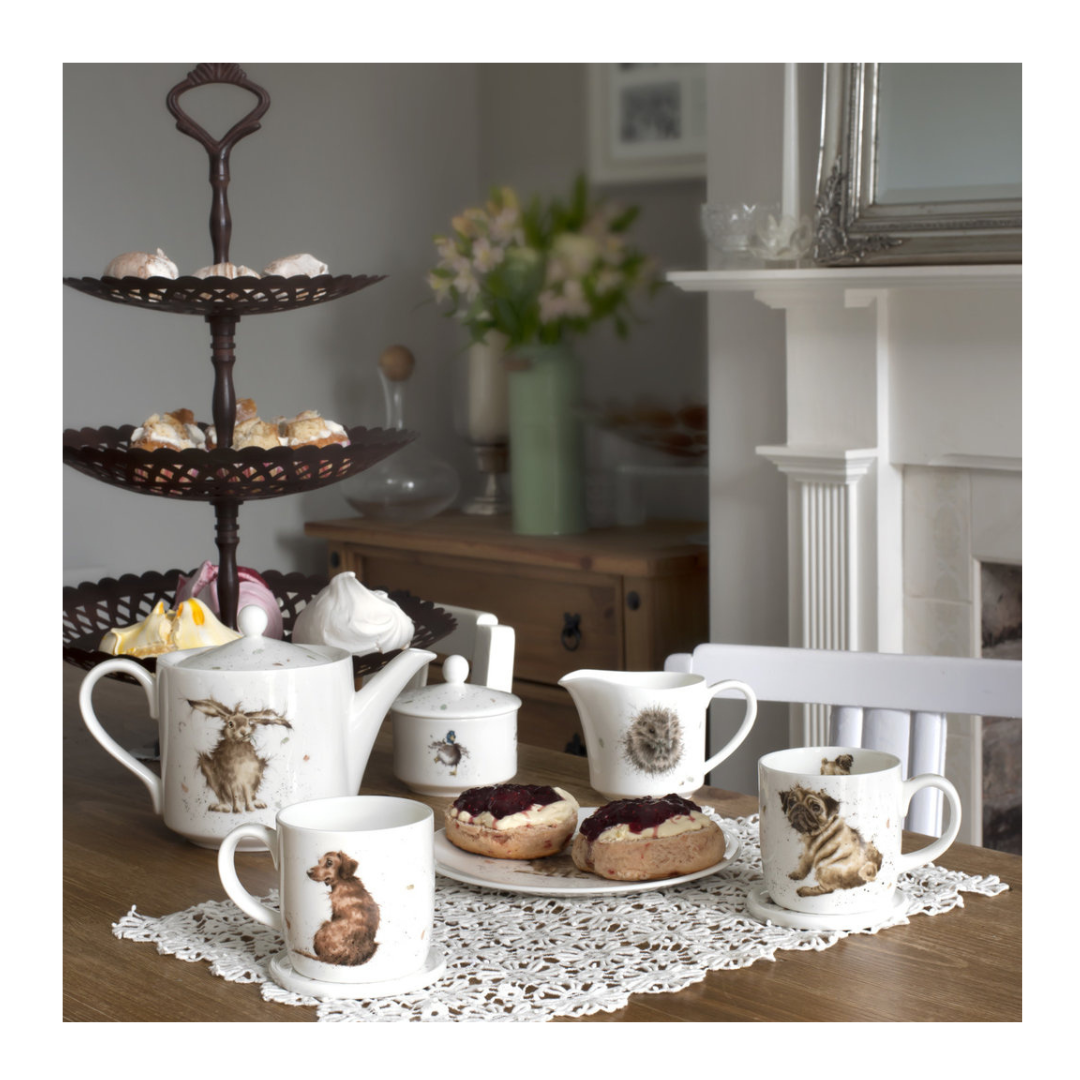 The teapot can be the centre piece of your tea setting, with the adorable 'Hare-Brained' Teapot (Shop it here). You can mix and match with the wide variety of mugs that we have available to shop online or in-person at the store. (Shop the mugs here). If you prefer a tea cup style, the Cappuccino Cup & Saucer will serve quite nicely, take a peek at it here.

Now for the placesettings! If you would like a variety of bowls, we have the delightful "pasta" sized bowls that you can use to dish up sweet selections (Shop them online here). They come as a set of four, each featuring a fun creature portrayed in the bowl. 

To finish out your place settings, we have a list of items to choose from:

 • Tall Tumblers/Highballs - Shop them online here
 • Tea Spoons - Shop them here
 • Dessert Forks - Shop them here
 • Napkins - Shop them here
 • Placemats - Shop them here
 • Coasters - Shop them here

Now to serve up the delights for your Autumn Tea Party, you will need serving platters and more! Wrendale's Coupe Plates (Shop them here) are perfect for keeping with the theme, or to use as accent pieces if you wish to have a touch of Wrendale on your table. Lovely pots for sugar and compote add to the feel of Fall, and if you have been working hard on canning give you the perfect pots for serving up your creations from the bounty of Summer!
     • (Shop for Compote/Jam Pot here)
     • (Shop for the Sugar Bowl here)
Fresh flowers are a wondeful way to complete your table, with our selection of Flower Jugs you can bring the outside in, while keeping cosy and warm! (Shop Flower Jugs here)

You are now set for a lovely Autumn Tea indulging with some sweet animal friends!